Wrocław Unveiled: Poland's Hidden Gem of Architecture and Diversity
The historic city of Wrocław is much more than its picturesque market square and winding waterways. Renowned for its panoramic beauty and vibrant student life, Wrocław is a city that blends intellectual pursuit and cultural festivities. The cityscape is a mosaic of Gothic, Baroque, and modern architecture, with the famous Centennial Hall heralding its eclectic urban flair.
At Piktalent, we recognize the potential Wrocław holds for up-and-coming professionals. We are dedicated to sourcing the best internship opportunities in Wrocław and aligning them with your individual career aspirations. Our strong connections with top-tier organizations across Wrocław's diverse economic sectors enable us to offer you a stepping stone to professional development and success.
Immerse yourself in the rhythm of Wrocław's bustling streets and serene riverbanks, where modern entrepreneurship meets rich historical legacy. By choosing an internship in Wrocław, you're not merely joining a workforce—you're becoming part of a city's storied tapestry, woven through with innovation, spirit, and a history that continues to inspire Poland and the world.
Benefits of Interning in Wrocław, Poland
Embark on a career journey in Wrocław, Poland's hidden gem, steeped in rich history and brimming with youthful energy. Wrocław is a melting pot of culture, academia, and innovative business, making it an optimal location for interns looking to make a mark in their chosen fields.
Wrocław's Historical and Cultural Mosaic
The story of Wrocław is one of resilience, diversity, and evolution. This city has seamlessly integrated its complex history, from being a medieval Silesian stronghold to becoming a vibrant metropolis. The warmth of the locals and the city's picturesque setting on the Oder River offer a unique backdrop for international networking. An internship in Wrocław is a gateway into an authentic Polish lifestyle, enriched by a confluence of architectural marvels, culinary delights, and a calendar packed with cultural festivities.
Opportunities for Personal and Professional Growth
Wrocław's high living standards, comprehensive healthcare, and progressive educational institutions set the stage for a fulfilling intern experience. The city's infrastructure, featuring accessible public transportation and green spaces, promises a balanced life. Known for its prestigious universities and research centers, Wrocław is a haven for learning and innovation.
Wrocław as an Economic Hub
Wrocław is rapidly carving out its place as an economic center in Poland, particularly in the tech and creative sectors. Its economy is vibrant with multinational corporations, thriving local businesses, and tech startups, particularly in its renowned Wrocław Technology Park. The city's strategic position in Europe, coupled with its educated talent pool, continues to attract international businesses and investors. Interns in Wrocław are positioned to dive into a dynamic market that values entrepreneurship and inventive thinking.
Cultural Enrichment in Wrocław
Wrocław dazzles with its assortment of cultural treasures. From the historic Market Square to the modernist Centennial Hall, a UNESCO World Heritage site, the city's cultural offerings are as diverse as its history. Revel in the numerous festivals, theaters, and galleries, or explore the multitude of islands and bridges that have earned Wrocław the nickname "Venice of the North."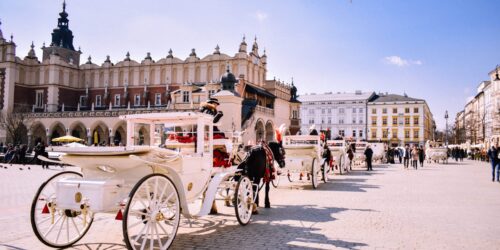 Highlights of Wrocław: A Cultural and Historical Adventure
Our program offers internships in a variety of fields and the duration of the internships varies depending on the program but typically ranges from 3 to 12 months. These programs offer valuable work experience in a range of fields, including but not limited to:
Piktalent is an online platform where students, educational institutions and companies can find each other with ease. It's free to register, apply for vacancies and use our system. What's more, all our basic services are completely free for students and educational institutions to use.
For students or educational institutions who require extra help and personal support in organizing mobility placements, we have custom solutions- that may require the payment of a service fee.
FAQ for Internships in Wrocław, Poland
Piktalent Services for Poland
We can provide a range of services to make the internship experience unforgettable.