Discover Lublin: Poland's Beacon of Cultural Richness and Academic Excellence
Lublin, a historical gem in eastern Poland, seamlessly blends its rich past with a lively, academic atmosphere. Known for its Renaissance architecture and vibrant student population, Lublin is a crucible of cultural and educational pursuits. Its charming old town and burgeoning modern sectors provide a picturesque backdrop for professional development.
Piktalent is your portal to exceptional internship opportunities in Lublin. We tailor opportunities to align with your career goals in Lublin's diverse economic and cultural landscape. With strengths in education, commerce, and healthcare, Lublin presents a unique mix for aspiring professionals. Its blend of historical charm and modern dynamism creates a unique environment for growth and learning.
Engage with Lublin's academic circles and explore its cultural heritage. Internships in Lublin offer a blend of professional experience and immersion in Poland's rich history and vibrant student life.
Benefits of Interning in Lublin, Poland
Embark on a rewarding internship in Lublin, Poland's blend of historical splendor and academic vibrancy. Famous for its medieval architecture, Lublin is now a hub for education, culture, and healthcare. This city offers a unique blend of historical depth and contemporary progress, ideal for fostering career growth.
Lublin's Academic and Cultural Nexus
Lublin's rich history is visible in its well-preserved old town. Today, it buzzes with academic and cultural activities. The city, teeming with students, transforms into a lively, youthful space. Internships here offer insights into Lublin's transformation from a historical to a modern, knowledge-based economy.
Immerse in Lublin's Historical and Cultural Scene
Lublin invites exploration of its Renaissance architecture and cultural landmarks. Wander through the old town, visit the majestic Lublin Castle, and engage with the city's vibrant festival scene. The Grodzka Gate, also known as the "Poetry Gate," symbolizes the city's blend of history and culture.
Lublin's Economic and Educational Dynamics
As an educational center, Lublin is home to several universities, attracting students and professionals. Fields like healthcare, IT, and commerce are thriving. The city's intellectual environment, anchored by its universities, offers interns exposure to cutting-edge research and business innovation.
A Center for Knowledge and Health Innovation
Lublin's focus on education and healthcare presents interns with diverse learning opportunities. The city's infrastructural growth, including the Lublin Science and Technology Park, supports a dynamic lifestyle for both locals and interns.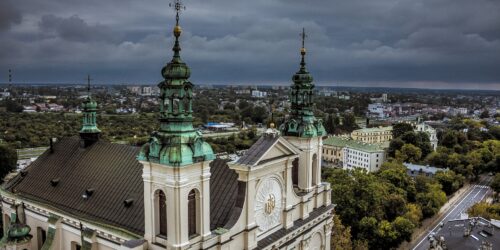 Explore More of Lublin and Its Treasures
Our program offers internships in a variety of fields and the duration of the internships varies depending on the program but typically ranges from 3 to 12 months. These programs offer valuable work experience in a range of fields, including but not limited to:
Piktalent is an online platform where students, educational institutions and companies can find each other with ease. It's free to register, apply for vacancies and use our system. What's more, all our basic services are completely free for students and educational institutions to use.
For students or educational institutions who require extra help and personal support in organizing mobility placements, we have custom solutions- that may require the payment of a service fee.
FAQ for Internships in Lublin, Poland
Piktalent Services for Poland
We can provide a range of services to make the internship experience unforgettable.