Experience Gdańsk: Poland's Gateway to Modernity and Maritime Heritage
Gdańsk shines as a hub of maritime commerce and contemporary culture. Its port city spirit is infused with innovation, making it an ideal spot for ambitious interns. Here, modernity sails alongside rich history, offering a distinct setting for professional growth.
Piktalent is your access point to Gdańsk's multifaceted internships. We handpick opportunities to align with your career goals in this coastal city. Our focus ensures your internship benefits from Gdańsk's vibrant maritime economy and progressive sectors.
Wander Gdańsk's old shipyards turned cultural sites. Join a workforce that's rooted in nautical tradition yet steers toward the future. Your Gdańsk internship won't just build your resume—it'll merge historical insights with cutting-edge industry experience.
Benefits of Interning in Gdańsk, Poland
Gdańsk stands as Poland's coastal jewel, merging deep maritime roots with a modern, entrepreneurial spirit. Here, ancient trade marries cutting-edge industry, perfect for professional advancement.
Gdańsk's Economic Renaissance
Once a Hanseatic powerhouse, Gdańsk now leads in maritime industries and modern technologies. It champions progress with the Gdańsk Science and Technology Park, attracting enterprising minds. The city buzzes with events like the Baltic Sea Cultural Gathering, blending networking with cultural immersion.
Cultural Vibrancy and Education in Gdańsk
Delve into history at the Maritime Museum or catch a play at the Shakespeare Theatre. Gdańsk's cultural offerings enrich its educational institutions, like the University of Gdańsk. Engage with marine research or participate in art programs by the sea. Each opportunity enhances your career path with regional expertise.
Renewal of Gdańsk's Historic Sites
The old Shipyard district showcases Gdańsk's transformation from shipbuilding to cultural hotbed. The Motława Riverfront is lined with restaurants and modern enterprises. These areas serve as real-world classrooms for commerce to creative arts interns. Here, the spirit of innovation thrives amidst gothic and renaissance facades.
Sustainable Development and Green Initiatives
Gdańsk leads in eco-friendly initiatives, balancing growth with sustainability. It's a green city, with initiatives like the Gdańsk Ecological Transport System fostering clean, efficient travel. Parks like Oliwa and the Tricity Landscape Park invite interns to explore lush, natural settings. Engaging in Gdańsk's green policies provides a unique angle for those interested in environmental careers, offering a glimpse into sustainable urban development.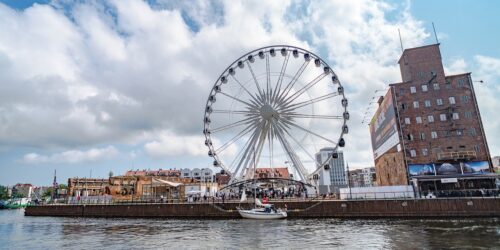 Explore Gdańsk: Maritime Meets Modern
Our program offers internships in a variety of fields and the duration of the internships varies depending on the program but typically ranges from 3 to 12 months. These programs offer valuable work experience in a range of fields, including but not limited to:
Piktalent is an online platform where students, educational institutions and companies can find each other with ease. It's free to register, apply for vacancies and use our system. What's more, all our basic services are completely free for students and educational institutions to use.
For students or educational institutions who require extra help and personal support in organizing mobility placements, we have custom solutions- that may require the payment of a service fee.
FAQ for Internships in Gdańsk, Poland
Piktalent Services for Poland
We can provide a range of services to make the internship experience unforgettable.