Explore Cracow: Poland's City of Kings and Rich History
The historic city of Cracow (Kraków) is a treasure trove of Polish cultural and academic heritage. Cracow, once the royal capital of Poland, is not just a major tourist destination. It's also a thriving hub for education and business innovation. The city's medieval core, crowned by the Wawel Castle, stands proudly alongside a vibrant urban culture and modern educational institutions, symbolizing a seamless blend of the past and the present.
At Piktalent, we specialize in connecting you with prime internship opportunities in Cracow. We meticulously select each role to ensure it aligns with your career goals. With our extensive network within Cracow's premier organizations spanning various industries, you're guaranteed to step into a professional journey that is as enriching as it is empowering.
Dive into Cracow's cobblestone alleys, where every corner echoes tales of centuries-old traditions. Opting for an internship in Cracow means you're not just advancing your career—you're becoming part of a city that has been at the forefront of Polish history and continues to shape the future of this dynamic country.
Benefits of Interning in Cracow, Poland
Embark on a career-defining journey through Cracow, Poland's city of historical grandeur and academic prestige. As the former royal capital, Cracow is a crucible of monumental history and vibrant urban life. Choosing Cracow for your internship offers a blend of professional growth and a deep dive into Polish culture.
Cracow's Historical and Cultural Landscape
Cracow is a city that has preserved its historical integrity, boasting a medieval core that whispers tales of bygone eras. Its residents' warmth and hospitality underscore the city's reputation as a welcoming place for global interactions. Interning in Cracow invites you to immerse yourself in the authentic Polish experience, enriched by its historical significance and enduring traditions.
Opportunities for Comprehensive Growth
Poland is renowned for its high living standards, inclusive of excellent healthcare, top-tier educational institutions, and advanced infrastructure. Situated in the southern region of Poland, Cracow ensures that interns benefit from these national perks. The city's amenities, coupled with an array of career opportunities, make for an effortless day-to-day life, enhancing the overall internship experience.
Cracow's Role in the Economy
Cracow is a vital cog in Poland's economic framework, renowned for its cultural tourism, innovative business sector, and educational services. It is also emerging as a new technology and startup hub, underpinned by its well-regarded universities and research centers. The growing IT and creative sectors, combined with a love for art and science, create a dynamic setting for driven professionals.
Immerse in Cracow's Cultural Wealth
Cracow is alive with Polish customs and modern dynamics. Dive into the city's cultural offerings, which span from timeless festivals and historic landmarks to avant-garde art scenes. Marvel at the architectural splendor of Wawel Castle and wander through the historic Jewish district of Kazimierz. Don't forget to explore the contemporary MOCAK Museum of Contemporary Art. Cracow is a haven for those yearning for a genuine connection with Polish heritage and the arts.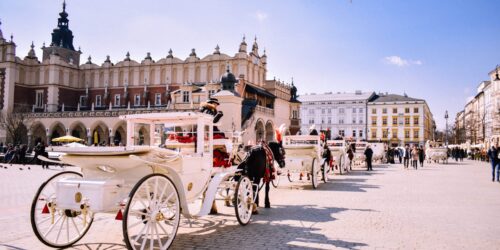 Discovering Cracow: The Seat of Polish Kings and Culture
Our program offers internships in a variety of fields and the duration of the internships varies depending on the program but typically ranges from 3 to 12 months. These programs offer valuable work experience in a range of fields, including but not limited to:
Piktalent is an online platform where students, educational institutions and companies can find each other with ease. It's free to register, apply for vacancies and use our system. What's more, all our basic services are completely free for students and educational institutions to use.
For students or educational institutions who require extra help and personal support in organizing mobility placements, we have custom solutions- that may require the payment of a service fee.
FAQ for Internships in Cracow, Poland
Piktalent Services for Poland
We can provide a range of services to make the internship experience unforgettable.