Discover Bydgoszcz: Poland's Hub of Innovation and Cultural Heritage
Bydgoszcz, with its rich cultural and historical tapestry, is an emerging hub for innovation and entrepreneurship in Poland. Known for its beautifully restored granaries and picturesque waterfront, Bydgoszcz is a city where history and modernity converge, offering a unique setting for career development.
Piktalent opens doors to outstanding internship opportunities in Bydgoszcz. We aim to align your career goals with experiences in the city's evolving industries. Bydgoszcz's economic landscape, thriving in sectors like IT, agribusiness, and logistics, presents diverse opportunities for aspiring professionals.
Engage with Bydgoszcz's cultural scene, from the historic Old Town to the modern Mill Island. Internships here not only advance your career but also connect you with the vibrant life of one of Poland's fast-developing cities.
Benefits of Interning in Bydgoszcz, Poland
Kickstart your career with an internship in Bydgoszcz, a city blending rich history and modern innovation. Known for its picturesque riverfront and architectural heritage, Bydgoszcz is also a growing center for IT, trade, and higher education. It offers a unique mix of past charm and contemporary growth, ideal for professional development.
A Center for Learning and Innovation
Bydgoszcz's emphasis on education and technological advancement provides interns a platform for both learning and professional growth. The city's infrastructure supports a dynamic lifestyle, blending historical charm with modern amenities.
Bydgoszcz's Historical and Modern Fusion
Bydgoszcz's past is visible in its beautifully preserved granaries and historic buildings. Modern development complements this heritage, with thriving business and technology sectors. Interning here, you witness firsthand the city's blend of history and innovation.
Bydgoszcz's Diverse Economic Landscape
Originally a trade hub, Bydgoszcz now excels in sectors like IT, logistics, and agribusiness. Its universities and research centers drive innovation, making it a hotspot for interns in diverse fields.
Immerse in Bydgoszcz's Culture and Arts
Bydgoszcz is rich in cultural offerings. Explore the Old Town, Mill Island, and the Opera Nova. Its vibrant arts scene includes museums, galleries, and theaters, offering a well-rounded intern experience.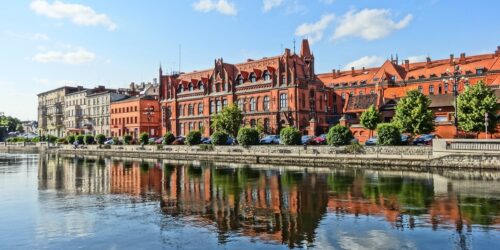 Explore More of Bydgoszcz and Its Treasures
Our program offers internships in a variety of fields and the duration of the internships varies depending on the program but typically ranges from 3 to 12 months. These programs offer valuable work experience in a range of fields, including but not limited to:
Piktalent is an online platform where students, educational institutions and companies can find each other with ease. It's free to register, apply for vacancies and use our system. What's more, all our basic services are completely free for students and educational institutions to use.
For students or educational institutions who require extra help and personal support in organizing mobility placements, we have custom solutions- that may require the payment of a service fee.
FAQ for Internships in Bydgoszcz, Poland
Piktalent Services for Poland
We can provide a range of services to make the internship experience unforgettable.