Internships in Riga, Latvia: Unlock Your Career Potential
Known for its well-preserved medieval architecture, Riga boasts a unique blend of history, culture, and modernity. As you stroll through the charming cobbled streets of the Old Town, you'll be captivated by the stunning Art Nouveau buildings that line the city's boulevards. Riga's rich history comes alive at the Riga Castle, home to the Latvian President, and the medieval Riga Cathedral with its awe-inspiring organ music. But Riga is not just about history; it's a vibrant and dynamic city with a bustling cultural scene. From live music and theater performances to contemporary art galleries, there's always something exciting to explore.
If you're looking for an internship opportunity in this captivating city, Piktalent is your trusted partner. We connect talented individuals like you with top companies in Riga, providing you with invaluable work experience and a chance to immerse yourself in the local culture. 
Benefits of Interning in Riga
Internships in Latvia provide valuable opportunities for students and young professionals to gain practical experience, develop skills, and expand their professional networks.
Thriving business environment
Riga is a hub for diverse industries, including finance, technology, creative sectors, and more. Interning in Riga provides exposure to a thriving business environment with opportunities to work with renowned companies and gain industry-specific skills.
Interning in Riga offers an international experience, allowing interns to work in a multicultural environment and gain a global perspective. This exposure enhances cross-cultural communication skills and broadens horizons.
Rich history and architecture
Riga is renowned for its captivating historical sites and architectural wonders. Interns can explore the city's UNESCO World Heritage Old Town, visit stunning Art Nouveau buildings, and appreciate the blend of medieval and modern architecture.
The city offers a healthy work-life balance. Interns can enjoy a range of recreational activities, including parks, vibrant nightlife, cultural events, and outdoor pursuits. This balance contributes to overall well-being and enhances the intern experience.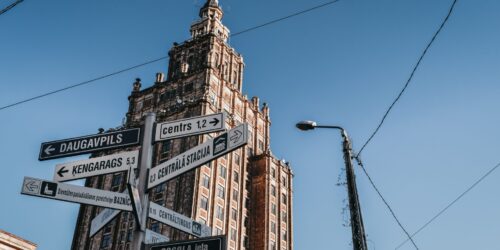 Our program offers internships in a variety of fields and the duration of the internships varies depending on the program but typically ranges from 3 to 12 months. These programs offer valuable work experience in a range of fields, including but not limited to:
Piktalent is an online platform where students, educational institutions and companies can find each other with ease. It's free to register, apply for vacancies and use our system. What's more, all our basic services are completely free for students and educational institutions to use.
For students or educational institutions who require extra help and personal support in organizing mobility placements, we have custom solutions- that may require the payment of a service fee.
FAQ about Internships in Riga, Latvia
Piktalent Services for Latvia
We can provide a range of services to make your internship experience unforgettable.