Discover Szeged: Hungary's City of Sunshine and Paprika Heritage
Nestled within the vibrant landscapes of southeastern Hungary, the radiant city of Szeged beckons you with a harmonious blend of rich Hungarian traditions, sunlit days, and a lively cultural life. Did you know? Szeged is renowned as the "City of Sunshine" due to its record of the highest number of sunny days in the country. Moreover, it's celebrated as the home of paprika, a spice integral to Hungarian cuisine, which made its way to the nation in the latter half of the 16th century. The city's strategic position in the Southern Great Plain has marked its significance in various historical and cultural events.
At Piktalent, we're elated to connect you with outstanding internship opportunities in Szeged. Each role we spotlight is carefully chosen to resonate with your unique career goals. Owing to our vast connections with elite businesses spanning diverse sectors in the city, be confident that you're not just securing an internship – you're embarking on a pivotal journey tailored for your professional triumph. Szeged, with its sunny disposition and paprika legacy, offers an unmatched experience of Hungary's cultural heritage and gastronomic delights, making it a prime destination for those desiring to merge professional growth with a fulfilling life experience.
Benefits of Interning in Szeged, Hungary
Steer your ambitions towards the radiant allure of Szeged, Hungary. Located in the southeastern part of the country, Szeged is a perfect blend of natural beauty, cultural depth, and historical relevance. Choosing an internship in Szeged offers you a chance to grow professionally and personally in the heart of the Southern Great Plains region.
Szeged's Renowned Cultural and Historical Significance
Szeged, a pivotal city in the Southern Great Plain region, vibrates with cultural dynamism and historical depth. It's a city that invites individuals globally, presenting them with a window into the traditions and legacy of Hungary. Interning in Szeged unveils a spectrum of opportunities, immersing you in the city's diverse cultural fabric. 
Discover a Hungarian Cultural Epicenter
Szeged is a repository of Hungarian traditions juxtaposed with modernity. Dive into the city's cultural events and historical sites, capturing the essence of Hungarian history. Celebrate the city's progress in various domains and experience Szeged's artistic soul, with myriad festivals, music events, and exhibitions recounting the stories of this southeastern jewel.
Basking in the Natural Splendor and Hungarian Heritage
Szeged, graced by the Tisza River, offers a unique blend of professional learning and exploration of natural marvels. Relish the tranquil landscapes and the city's reputation as the "City of Sunshine". Engage with the balanced living philosophy of Hungary, while also delving into the rich heritage and traditions of the region. Your internship in Szeged is not merely a career stepping stone but a voyage through a mesmerizing Hungarian tapestry filled with tales of nature, history, and progress.
Infinite Possibilities for Comprehensive Growth
Szeged acknowledges your dedication and enthusiasm. Beyond career growth, Szeged provides unmatched personal experiences. Relish the culinary wonders, especially the renowned paprika. Engage in the city's cultural festivals, or set out on journeys exploring the natural charm of the region. In Szeged, internships transcend professional confines, crafting a mosaic of experiences that resonate with your aspirations and passions.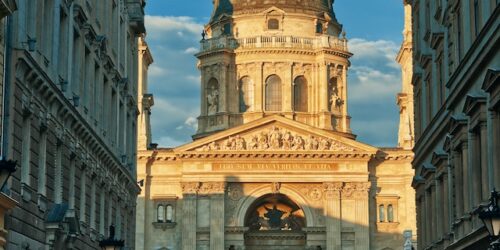 Exploring Szeged: A Glimpse into Hungary's Sunlit City
Our program offers internships in a variety of fields and the duration of the internships varies depending on the program but typically ranges from 3 to 12 months. These programs offer valuable work experience in a range of fields, including but not limited to:
Piktalent is an online platform where students, educational institutions and companies can find each other with ease. It's free to register, apply for vacancies and use our system. What's more, all our basic services are completely free for students and educational institutions to use.
For students or educational institutions who require extra help and personal support in organizing mobility placements, we have custom solutions- that may require the payment of a service fee.
FAQ for Internships in Szeged, Hungary
Piktalent Services for Hungary
We can provide a range of services to make the internship experience unforgettable.