Discover Šiauliai: Lithuania's Sun City of Historical Resilience and Cultural Richness
Situated in the northern region of Lithuania, the enchanting city of Šiauliai invites you with a harmonious fusion of profound historical significance, cultural richness, and resilient spirit. Did you know? Šiauliai is renowned as the city of the Sun and is a gateway to the world-famous Hill of Crosses, a symbol of resistance and a place of pilgrimage with over 100,000 crosses, established in the 19th century. The city's historical roots trace back to at least the 13th century, reflecting its longstanding heritage and importance in Lithuanian history.
At Piktalent, we are thrilled to connect you with outstanding internship opportunities in Šiauliai. Each opportunity we present is carefully chosen to match your unique career goals. With our extensive network with leading organizations across diverse sectors in the city, be confident that you are not just securing an internship – you are stepping into a transformative journey meticulously designed for your professional triumph.
Šiauliai, with its rich history and cultural vibrancy, offers a distinctive environment for those seeking to immerse themselves in the Lithuanian way of life while advancing their careers. Whether you are drawn to the historical resilience of the city or its cultural richness, Šiauliai provides a multifaceted backdrop for professional exploration and growth.
Benefits of Interning in Šiauliai, Lithuania
Direct your aspirations towards the vibrant landscapes of Šiauliai, Lithuania. Located in the northern part of the country, Šiauliai is a harmonious blend of historical richness, cultural diversity, and modern innovation. Opting for Šiauliai as your internship destination offers you a dual advantage: professional development and personal enrichment in a city steeped in tradition and resilience. 
Šiauliai's Distinguished Academic Presence
Šiauliai is a significant economic and communication center and hosts the Vilnius University Šiauliai Academy. This academic hub welcomes students and researchers from around the world, specializing in various disciplines and contributing to the city's intellectual vibrancy. Interns in Šiauliai have the opportunity to explore a myriad of possibilities in a city that values education and innovation.
Journey Through a Lithuanian Cultural Tapestry
Šiauliai presents a fascinating mix of local traditions and contemporary Lithuanian culture. Immerse yourself in the city's historical sites, including the renowned Hill of Crosses, a symbol of national endurance and faith. Explore the city's museums like The Cat Museum and Ruta Sokolado Muziejus, and participate in the diverse cultural events and festivals that reflect the artistic spirit of Šiauliai.
Embracing the Lithuanian Heritage

and

Natural Beauty
Šiauliai, situated in north-central Lithuania, allows interns to combine professional learning with the exploration of the country's natural and historical treasures. Experience the city's unique attractions and delve deep into Lithuania's rich heritage. Your internship in Šiauliai is not merely a career milestone but a journey through a Lithuanian panorama interwoven with tales of history, culture, and innovation.
Limitless Opportunities

for

Holistic Growth
Šiauliai rewards your commitment and zeal. Beyond professional advancements and attractive remunerations, Šiauliai offers unparalleled personal experiences. Savor the culinary delights of Lithuanian cuisine, engage in the city's vibrant cultural life, and explore the various historical and cultural sights. In Šiauliai, internships go beyond professional boundaries, creating a collage of experiences that align with your goals and passions.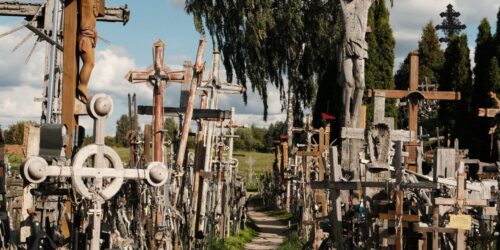 Discovering Šiauliai: Lithuania's Historical Beacon Shines Bright
Our program offers internships in a variety of fields and the duration of the internships varies depending on the program but typically ranges from 3 to 12 months. These programs offer valuable work experience in a range of fields, including but not limited to:
Piktalent is an online platform where students, educational institutions and companies can find each other with ease. It's free to register, apply for vacancies and use our system. What's more, all our basic services are completely free for students and educational institutions to use.
For students or educational institutions who require extra help and personal support in organizing mobility placements, we have custom solutions- that may require the payment of a service fee.
FAQ for Internships in Šiauliai, Lithuania
Piktalent Services for Lithuania
We can provide a range of services to make the internship experience unforgettable.