Discover Rakvere and Elevate Your Career with Our Internship Programs
Rakvere, Estonia, beckons you to embark on a rewarding journey of internship opportunities. This city harmoniously blends its rich historical heritage with contemporary vitality, offering a unique amalgamation of career prospects, cultural depth, and natural beauty.
At Piktalent, we're dedicated to shaping your future. Our thoughtfully crafted internships in Rakvere are designed to align perfectly with your career goals. Rakvere's diverse economic landscape paves the way for countless opportunities across various sectors, making it an ideal destination for kickstarting your career while embracing international experiences. Join us in Rakvere, where tradition and innovation coexist, ensuring a gratifying professional journey.
Benefits of Interning in Rakvere
Embark on a rewarding journey of professional growth and cultural immersion in Rakvere, Estonia. Nestled in this captivating city, you'll find a unique fusion of career opportunities, historical charm, and natural beauty.
The Beautiful Landscapes of Rakvere
Nestled in northern Estonia's captivating landscapes, Rakvere is surrounded by lush forests, tranquil lakes, and rolling hills. Its proximity to Lahemaa National Park offers diverse ecosystems for outdoor enthusiasts. Whether in the vibrant hues of summer or the tranquil snowscapes of winter, Rakvere's natural beauty invites exploration, showcasing Estonia's stunning landscapes.
Rakvere, a city with a rich historical tapestry, carries the echoes of the past into the present. Its history can be traced back over a millennium, making it one of Estonia's oldest and most culturally significant cities. From Danish and Swedish rule to modern Estonia, it has witnessed the rise and fall of empires. The historical heart of Rakvere lies within its well-preserved Old Town, where centuries-old architecture and cobblestone streets evoke a sense of stepping back in time. A standout landmark is the formidable Rakvere Castle, which dates back to the 13th century and has played a pivotal role in shaping the city's identity. Today, Rakvere seamlessly blends its historical heritage with modern vitality, offering a unique fusion of past and present.
Rakvere's Opportunities for Holistic Development
Rakvere offers more than just professional growth – it provides a canvas for you to paint unforgettable personal experiences. Immerse yourself in Estonian culture, savor local cuisine, and participate in city-wide celebrations. Rakvere's internships extend beyond the workplace, weaving a rich tapestry of experiences that harmonize with your ambitions and interests.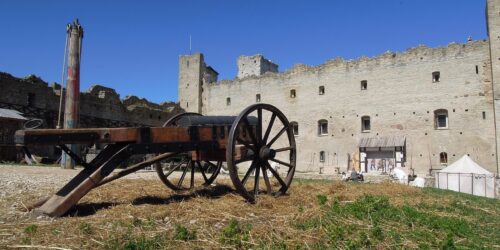 Exploring Rakvere: Big Part of Estonian History
Our program offers internships in a variety of fields and the duration of the internships varies depending on the program but typically ranges from 3 to 12 months. These programs offer valuable work experience in a range of fields, including but not limited to:
Piktalent is an online platform where students, educational institutions and companies can find each other with ease. It's free to register, apply for vacancies and use our system. What's more, all our basic services are completely free for students and educational institutions to use.
For students or educational institutions who require extra help and personal support in organizing mobility placements, we have custom solutions- that may require the payment of a service fee.
FAQ for Internships in Rakvere, Estonia
Piktalent Services for Estonia
We can provide a range of services to make the internship experience unforgettable.