Internships in Kuressaare
Discover Kuressaare and Elevate Your Career with Our Internship Programs
Kuressaare, a picturesque city on Saaremaa Island, invites you to embark on a transformative journey filled with rewarding internship opportunities. Nestled on the stunning shores of the Baltic Sea, Kuressaare offers a unique blend of professional growth, cultural immersion, and natural beauty.
At Piktalent, we are committed to shaping your future. Our meticulously designed internships in Kuressaare are thoughtfully curated to align seamlessly with your career aspirations. Kuressaare's diverse economic landscape provides you with an array of opportunities across various sectors, making it an ideal destination for launching your career while immersing yourself in an international setting. Join us in Kuressaare, where tradition and innovation harmoniously coexist, ensuring a gratifying and enriching professional journey. Your internship experience begins in this scenic Estonian gem.
Benefits of Interning in Kuressaare
Embark on an enriching journey of professional growth and cultural immersion in Kuressaare, Estonia. Situated on the picturesque Saaremaa Island, Kuressaare offers a unique blend of career advancement and personal enrichment in one of Estonia's most charming cities.
Kuressaare's Coastal Beauty
Kuressaare, located on the shores of the Baltic Sea, welcomes you with its natural splendor. The city's coastal vistas, serene beaches, and lush landscapes provide a tranquil backdrop to your internship experience, creating a harmonious blend of work and leisure.
Cultural Riches of Saaremaa
Immerse yourself in the cultural heritage of Saaremaa, Estonia's largest island. Kuressaare boasts a rich history and a vibrant cultural scene. Explore local traditions, delve into the island's proud heritage, and savor authentic Estonian cuisine in the city's restaurants.
Professional Growth in a Unique Setting
Kuressaare offers not only the promise of professional growth but also a chance to create unforgettable personal experiences. Your internship in Kuressaare extends beyond the workplace, weaving a tapestry of experiences that align with your ambitions and interests.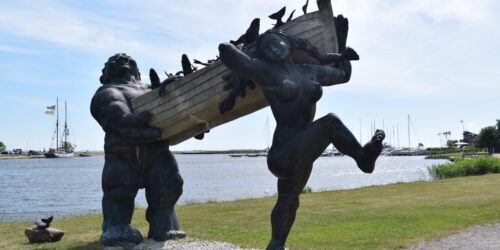 Exploring Kuressaare: Saaremaa's Gem
Our program offers internships in a variety of fields and the duration of the internships varies depending on the program but typically ranges from 3 to 12 months. These programs offer valuable work experience in a range of fields, including but not limited to:
Piktalent is an online platform where students, educational institutions and companies can find each other with ease. It's free to register, apply for vacancies and use our system. What's more, all our basic services are completely free for students and educational institutions to use.
For students or educational institutions who require extra help and personal support in organizing mobility placements, we have custom solutions- that may require the payment of a service fee.
FAQ for Internships in Kuressaare, Estonia
Piktalent Services for Estonia
We can provide a range of services to make the internship experience unforgettable.