Discover Mosta: A Blend of Tradition and Modernity in Malta
Enhance your career prospects with an internship in Mosta. This city plays a significant role in Malta's economy, hosting various local enterprises, retail establishments, and educational institutions. Its strategic position in the center of the island and its excellent transportation links make Mosta an ideal location for internships across diverse sectors. The town is well-known for its rich history and heritage, particularly the iconic Mosta Dome, offering insights into Maltese traditions and architecture.
Piktalent is committed to guiding you through your internship journey in Mosta, ensuring you fully exploit the myriad of opportunities this charming town provides. Whether you are gaining hands-on experience in your chosen field, immersing yourself in the local culture, or exploring the historical sites, an internship in Mosta is a gateway to acquiring invaluable skills and establishing a robust professional network in Malta.
Join us at Piktalent, and take the first step towards shaping your successful future in the unique and vibrant town of Mosta!
Benefits of Interning in Mosta
Mosta is a vibrant town situated in the heart of Malta, where tradition meets innovation. Mosta provides a unique setting for personal and professional growth. Its thriving community and dynamic economy, makes it an ideal destination for interns.  
Historical Wonders of Mosta
Mosta is home to the iconic Rotunda of Mosta, one of the largest unsupported domes in the world, showcasing the town's rich historical tapestry and architectural brilliance. The town's storied past and cultural heritage provide a captivating backdrop for your internship, allowing you to connect with Malta's traditions and history.
A Hub for Professional Development
With its strategic location and well-established industries, Mosta offers a plethora of opportunities across various sectors, from retail and commerce to education and services. Interns in Mosta can expect to be part of a thriving economy, gaining practical experience and valuable insights that will propel their careers forward.
Living and Working in Mosta
Mosta's warm community, coupled with its robust infrastructure, ensures a balanced lifestyle, blending work and leisure. The town's array of local eateries, shops, and public spaces offer a glimpse into the daily life of the Maltese, providing a truly authentic experience.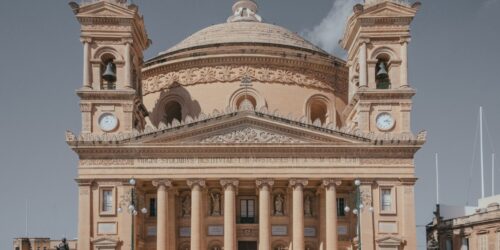 Discovering Mosta: A Maltese Gem
Our program offers internships in a variety of fields and the duration of the internships varies depending on the program but typically ranges from 3 to 12 months. These programs offer valuable work experience in a range of fields, including but not limited to:
Piktalent is an online platform where students, educational institutions and companies can find each other with ease. It's free to register, apply for vacancies and use our system. What's more, all our basic services are completely free for students and educational institutions to use.
For students or educational institutions who require extra help and personal support in organizing mobility placements, we have custom solutions- that may require the payment of a service fee.
FAQ for Internships in Mosta, Malta
Piktalent Services for Malta
We can provide a range of services to make the internship experience unforgettable.